Border Recipe: Cottage-Italian
This is a collision between two very different styles – the one loose and informal (chaotic, even!) and the other tight, formal and rigid. And yet, it works really well here forming an almost year-round, green-screen between a large drive area and the entrance path to the house. The border is fairly narrow (1.2m) which restrained my range of plants. I wanted a layered effect so I used different planting groups to create strong horizontal bands.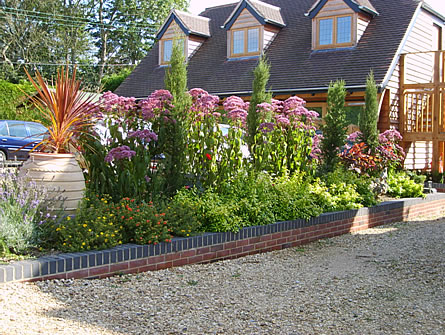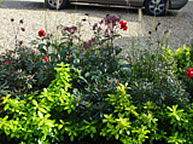 This raised bed has only about 30cm of good quality soil (heavily improved before planting) before you hit builder's rubble. It is on the eastern side of a large building (out of picture towards the right). The bed was planted up in October 2006 and this picture (at left) was taken on 4th September 2007.  The focal point plant (Trachycarpus fortunei) was replaced by Cordyline austrralis in the spring after severe wind damage. The site is windy and exposed.


Plant List
(a pinky-scarlet colour theme):
The conifers – providing structure and permanence to the bed
Cupressus sempervirens Stricta (4 no.)
Also Cotinus coggygria 'Grace', positioned opposite kitchen window.
The Planting – add volume and colour in sequence to the bed
Along the central spine of the bed (between the cypresses):
Eupatorium purpureum Atropurpureum – the frothy pink layer just below the cypresses
Euphorbia amygdaloides Rubra – a lower layer with darker foliage
Pennisetum 'Hamlyn' – little beige fireworks at about 1m high, lasting through the winter
Along the edges of the bed: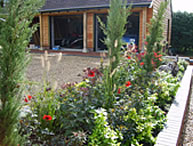 Escallonia 'Gold Ellen' – tender, limey-lemony evergreen leaves
Potentilla 'Red Ace' and 'Miss Wilmott'
Lavender and Rosemary (around base of terracotta pot)
Buxus sempervirens (at far end of bed, flanking steps up to barn)
And Dahlia 'Bishop of Llandaff'.
For further information: 023 8023 3768 or 07780 920 653